The same day CCV sent our Action Alert to you regarding the Federal Sexual Orientation/Gender Identity Bill, the Ohio Senate scheduled the Ohio version of this dangerous bill for a hearing in the Senate Judiciary Committee – SB 11.
We need to take action immediately to ensure this bill never moves forward! There is no greater threat to religious freedom and privacy than this bill.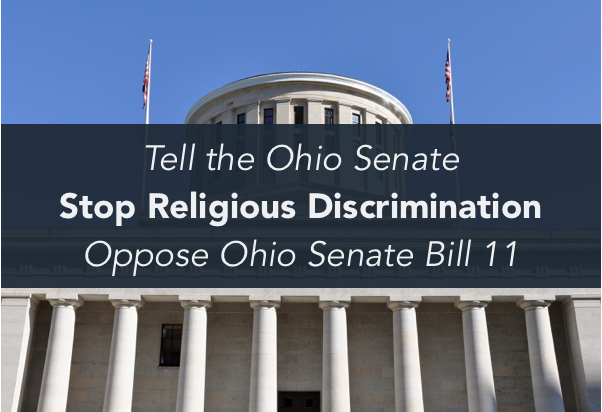 Some of the most powerful and well-funded special interest groups are backing this devastating legislation.
The so-called "Ohio Fairness Act," better known as a Sexual Orientation/Gender Identity Law, creates a laundry list of problems for businesses, ministries, medical professionals, women, and children.
It also threatens Bible-believing Christians with severe penalties for simply living out our faith.
Just like the Federal Bill, this bill creates a host of negative impacts:
Requiring biological men be allowed in women's restrooms, locker rooms, and showers if they claim they identify as women.
Requiring boys be allowed to play in girls' sports in public schools if they claim they identify as women.
Forcing women's homeless shelters and domestic violence shelters to allow biological men who claim to identify as women to bathe and bunk with women.
Allowing state government to remove children from parents' custody who don't consent to dangerous conversion/hormone therapy.
Forcing doctors to participate in "gender transition" surgeries and procedures.
Requiring businesses to participate in same-sex weddings, even if the wedding violates their religious beliefs.
The truth is, SB 11 doesn't create equality, it creates massive inequality by making Christians, women, and children second-class citizens by restricting their religious freedom and privacy rights.
TAKE ACTION TODAY: Your State Senator needs to hear from you to oppose SB 11! Use CCV's Action Center to send a quick note to your senator on this dangerous bill!

CLICK HERE TO TAKE ACTION
More Resources on Sexual Orientation Gender Identity Laws